Looking for the handy list of the built-in rhythms in Alesis SR-16? I have something for you!
I am hooked on using rhythm machines for guitar playing. It gives a special flavour to your playing and definitely so much more fun than a metronome :). While I have an excellent Vox MINI5 Rhythm and a couple of Zoom multi-FX pedals, when building a small tube-powered rig I wanted to have a dedicated drum machine. Having a choice of a pedal with a couple of built-in rhythms and a more powerful drum computer I decided to go for the latter.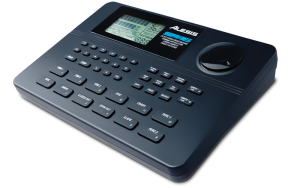 The classic Alesis SR-16 always comes up in top searches, so I couldn't really avoid it. I ended up picking an old second-hand one (still kicking fine!), but one thing that I wasn't happy about is that the list of built-in rhythms is printed on the back of the thing. I have it "planted" as part of the rig and turning it around with all the cables is not that handy after all.
So I ended up making a photos and putting it all in a spreadsheet to print and have it handy. Grab a copy of the PDF file and print!
Put it next to your device so you can always look up the built-in rhythms. Of course the full potential of the drum computer is in the possibilities to create custom ones, but that is a whole different story!
By the way, if you want to be able to start / stop rhythm or initiate a fill-in with a pedal, a simple and cheap Roland DP-2 sustain pedal (actually any "momentary" or "unlatch" switch would do) works perfectly and does not require batteries like more expensive Boss FS-5U. It comes with a long but non-detachable cable, lightweight and has a rubber foot so that it does not move around too much.
This post contains affiliate links to the Amazon.com website. I will receive a small fee if you buy one of the products which will help me supporting this website. I appreciate your help!
Have fun and happy playing!