As New Year is about to start I was looking for the nice books to advance further in my blues playing.
To start with hereby the three books I picked for beginner / intermediate levels. I went through the reviews and read the sample chapters available on Kindle. Note that these are not kinds of books you read through, but rather go through every exercise, so the number of chapters is a better indication on how long you will need to go thourgh than the number of pages :).
So here they are (note that the links below lead to Amazon, see note):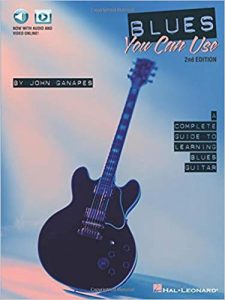 I came across this book in one of the forums trying to find new resources for inspiration. Some books were already on my list, and some not available for Kindle, some covering mainly basics. The style of the author, the level and depth of explanation and the range of covered topics (like different styles of blues, rhythm and solo parts) really stand out for me. I was "sold" after a couple of pages. The book is divided into 21 lessons each introducing different techniques, chords and progressions, and a study to follow. The included audio and video materials through the Hal Leonard website make the package complete.
Buy from Amazon.
Well, strictly saying, this is NOT a book on blues, but… you need to exercise basic techniques and get your fingers in shape to play anything well. While other books focus on specific chords, playing solos and connecting those together, the execises in this book provide basis to play well for hours and reach out to those notes effortlessly (well, after putting a lot of effort in exercising of course!). The exerices and the style really spoke to me from the first pages. I read through the sample chapters while being on a trip without guitar and I couldn't wait until I could try those with an instrument!
Buy from Amazon.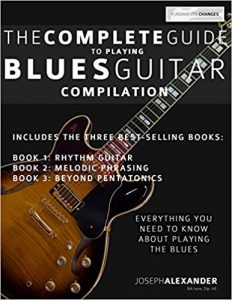 Looks like no list can be complete without at least one book from best selling Joseph Alexander. This is a compilation of several books covering subjects from rhythm to phrasing and soloing. It has pretty good ratings (although beware when buying paperback that you get just one single physical book unlike depicted on the Kindle cover image according to some reviews!). The set covers a lot of ground, starting from basics and going beyond what many other books seem to cover. Definitely a good starting point! Note that the audio materials for all books are avaiable from the Fundamental Changes website.
Buy from Amazon.
Note that I would earn a small commission from qualifying purchases from the links to Amazon above to help running this site.